Michigan Indoor Golf
Golf is no longer a summer sport. With simulated indoor golf, you can enjoy the game and even play the most famous courses all year long. Our indoor golf range simulations give you the challenge and exhilaration of outdoor golf, without being subject to seasonal changes. From the warmth and comfort of our indoor golf simulation space in Okemos, Michigan, you can play 9 holes even during harsh Michigan winters.
Indoor golf games must be booked in advance. Give us a call or schedule a tee time online.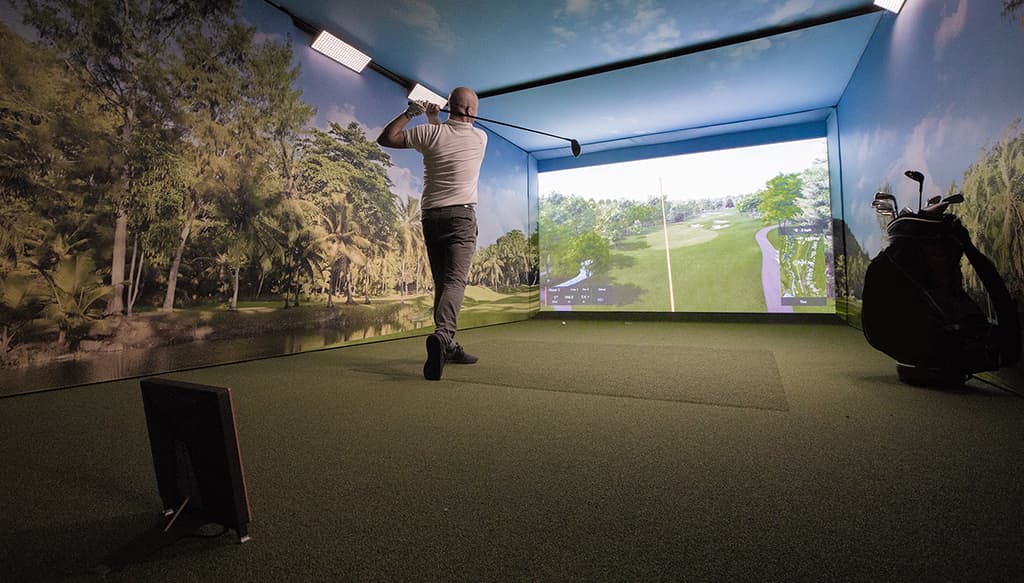 Cost
1 hour simulator session, per person
1 person: $50
2 people: $25
4 people: $12.50
TRACKMAN 4 DUAL RADAR TECHNOLOGY
Play Courses Around the World
With indoor golf, you can play your favorite sport at any time of the year and even visit some of the most famous courses in the world. Our Trackman Studio indoor golf range simulators bring you the beautiful surroundings and exceptional challenges of 30 of the world's leading golf courses. Play on gorgeous Muirfield, Innisbrook, Dubsdread, Royal Troon, the PGA National championship course and many more. Indoor golf range simulators allows you to experience the world of golf without leaving town. Our simulators deliver a crisp, realistic visual experience that perfectly mimics the actual environment and layout of each course.
Try out a new course each time you visit, or return to a course that you love. You can play by yourself, with up to four friends, or you can even challenge other players around the world. With your My Trackman account, you can pick up where you left off with each visit, and you can compete in our winter golf leagues to hone your skills during the off-season.
Winter Indoor Golf Leagues
Winter golf leagues are a great way to stay in shape and keep your skills sharp while you're away from your local course. Using our Trackman simulators, our first winter golf league begins the week of November 5th and runs until mid-January. Our second league will start at the beginning of February and will be an 8-week league that runs to the end of March.
You can explore different courses through our indoor golf range simulators, meet other golfers, win prizes, and enjoy competitive play in our comfortable, indoor golf environment.
League Cost
$50 up front cost, with $10 dollar payments each week you play (there will be 2 major weeks that is $20 - 18 holes)
League Prizes
Winner in points at the end of the league will receive a $250 gift card. Second place will receive a $100 gift card.
All league members will also receive a 25% discount on all full priced apparel during the duration of league play.